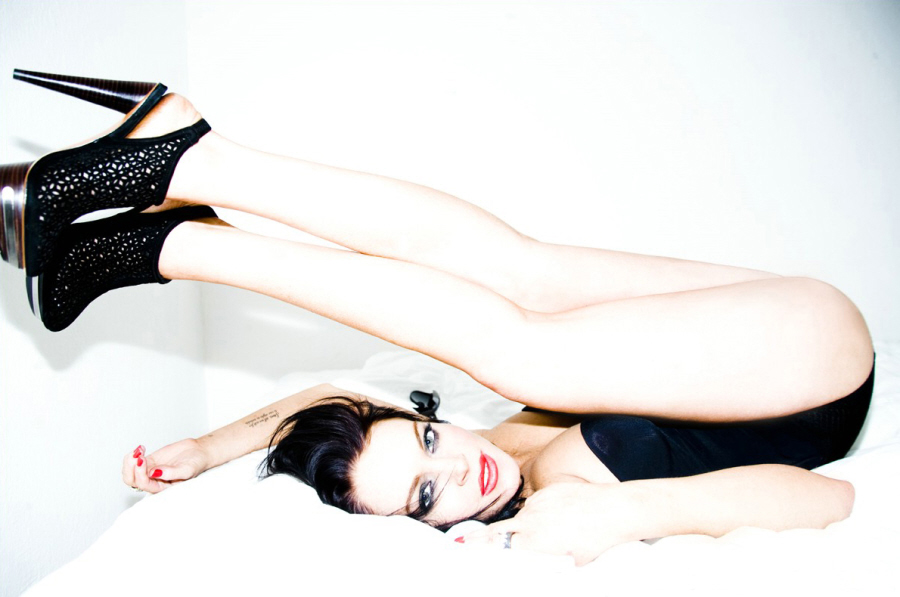 Will the crack hilarity never end? At the end of April, we're now facing the first motions of The Crack Trial of The Century when our beloved Lindsay Lohan faces trial for her crack thievery and her multiple probation violations. Linnocent is still in NYC, as far as I know, with her mother and some of her siblings. There have been reports all over
New
York
that she's still partying her crack off and back to drinking, if not drugging. Linnocent is celebrating her innocence, it would seem. Mother Crackhead agrees - she's given a new interview to Radar where she discusses her darling crackhead daughter's decision to not cop a plea:
Lindsay Lohan never had any intention of agreeing to a plea deal and accepting guilt for allegedly stealing a $2,500 necklace from a Venice Beach jewelers, her mom Dina told RadarOnline.com in an exclusive new interview.
Lindsay's powerhouse attorney Shawn Holley formally notified the District Attorney and Judge Keith Schwartz on Wednesday that her client would not accept the plea deal, and although her team waited until the final hours to reject the offer, Dina said her daughter never even entertained the idea of copping a plea.
"She was never going to plead guilty to a crime she didn't commit," Dina told RadarOnline.com. "All along Lindsay has never wavered regarding her innocence."
In a statement to RadarOnline.com, Holley said that many people felt Lindsay should take the plea, and advised her to do so, but that she was confident the Mean Girls star would be triumphant after having her day in court.
"Though many advised her to follow the safe route by taking 'the deal,' the truth is, Ms. Lohan is innocent; she has a strong defense; and we are confident that a jury will listen to the evidence fairly and acquit her," Holley said.
Dina is also confidant with Lindsay's decision and says that she is sure the surveillance tape from the jewelry store will vindicate her daughter.
"I saw the entire security tape, and it showed the necklace clearly being loaned to Lindsay," Dina claims.
The 24-year-old actress will now appear in front of Judge Stephanie Sautner on Friday, April 22 for her preliminary hearing.
Sources close to the case tell RadarOnline.com that it's likely only investigating officers will be called to court by Deputy District Attorney Danette Meyers at that hearing.
At the conclusion of the preliminary hearing, Judge Sautner will also determine if Lindsay violated the terms of her probation by being charged with a felony and deciding to head to trial, which alone could send Lohan back to jail for at least six months.
Wait, what?
"I saw the entire security tape, and it showed the necklace clearly being loaned to Lindsay."
I haven't seen the full tape, but didn't it just show Linnocent putting the necklace on, her friend causing a distraction, Linnocent covering the stolen necklace with another piece and then walking out of the store? And while Linnocent may have been pleading innocence this whole time, her story has changed about a dozen times. Let's hear the version where she didn't realize she had stolen it and it's the store's fault for not catching her.
In other LINNOCENT FOREVER news, TMZ reports that another criminal case against Linnocent could be pending. Remember how Linnocent violently attacked a Betty Ford staffer who tried to get Linnocent to take a Breathalyzer when she turned up late for check-in? Yeah, the cops are "reigniting their investigation" according to TMZ:
Just when Lindsay Lohan thought her legal problems couldn't get any worse … TMZ has learned cops are reigniting their investigation into allegations she attacked a Betty Ford staffer.
Sources connected to the investigation tell us … in the last two days, the Riverside County District Attorney's Office sent investigators to meet with key witnesses who were with Lindsay on December 12, 2010 — the night she allegedly got into a tussle with Dawn Holland.
We're told cops told the witnesses they were conducting the investigation because the D.A. is still determining whether to pursue criminal assault charges against Lohan.
Sources tell us … investigators wanted to know if the witness could testify if it was Lindsay or Dawn who was the "aggressor" during that fateful night. They also wanted to know if the witness could describe any sort of injury Dawn may have suffered during the incident.
We're told investigators also wanted to know if the witnesses would cooperate with authorities if the case went to trial … but sources say the witnesses wouldn't give a definitive answer.
As far as that case goes, it does feel like it's too little, too late. Didn't Mother Crackhead already pay off Dawn Holland? Hasn't Holland already told prosecutors that she wasn't going to press charges? Yeah, the cops and the prosecution really bungled that one. Linnocent should have gone down for assault. Speaking of, that's the security footage I really wanted to see.