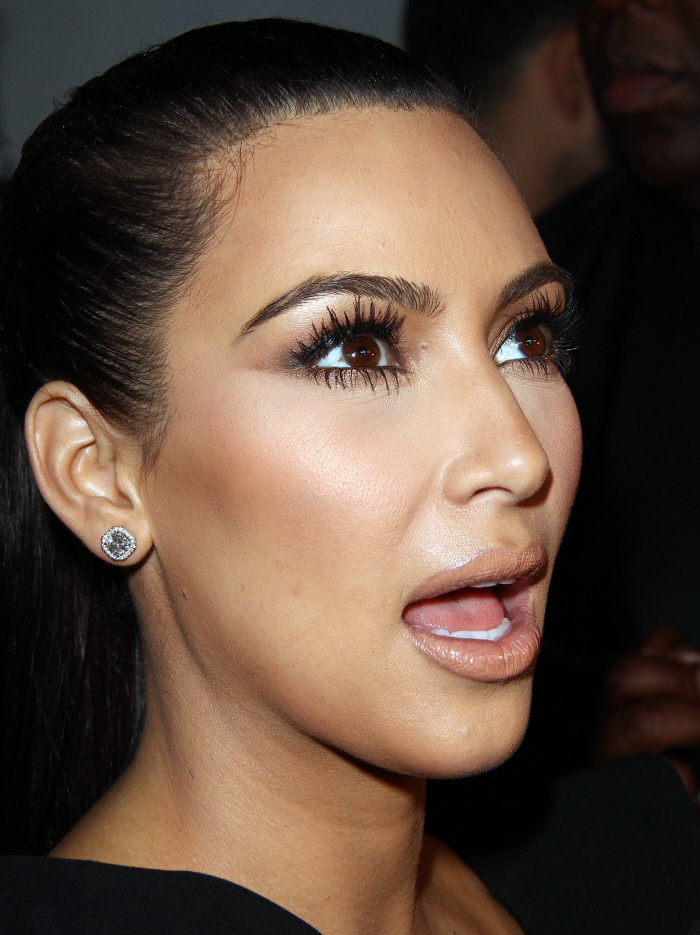 I've spent way too much looking at photos of
Kim Kardashian
's crazy face. Often I just stare at photos of her, trying to pinpoint exactly what is happening, plastic-surgery-wise. There's a
nose job
, some eye work, lip injections, Electrolysis to
remove facial hair
and change her hairline, and, of course, regular Botox injections, but those are the only things that I can really identify using older photos of Kim as a reference. But it's only in the last year or so that I've begun to understand why Kim looks to alien-like most of the time - she wears a crapload of makeup. In particular, eye-makeup, and she must wear the biggest, most drag-queeny fake eyelashes out there, because they look scary. Now Kim (and her sisters) are admitting something that we've known for a long time: they're "trannies" - about makeup, at least.
Kim Kardashian is outing herself and her sisters — as trannies! The reality TV star says she and her siblings, Kourtney and Khloe, have always piled on cosmetics ever since their late father Robert Kardashian hired a professional make-up artist to give them beauty tips.
She told website xoJane.com: "He said, 'My daughters are going to start to wear makeup and I want you guys to look at least presentable,' which I thought was really cool. And we've turned out to be the biggest trannies because of it."
However, Kim admits not everyone has been impressed with how the sisters apply their make-up.
She said: "We had publicists and people who would tell us, 'Girls, tone it down. Stop wearing all the makeup.' But then we would read on our blogs - like in the comments and everything - and everyone was like, 'What lipstick is this, what mascara do you use?' We were like, 'We love make-up, so why try and be what we're not?'"
Khloe insists they don't mind the criticism as she knows they don't need to wear a lot of makeup.
She said: "We joke and say we are like trannies because we love hair and make-up. I don't think we necessarily need makeup, but we love it. But Kim definitely, if you take off what's on her face, her face is the exact same. She doesn't need it. It's just like a mind thing to her."
What do you think about the use of "tranny" as a pejorative about makeup usage? Because there are honest-to-God transvestites who want NO PART of the Kardashian insanity, and they don't like these bitches giving them a bad name. I personally think it would be appropriate to use "drag queen" when describing the Kardashian ladies' general style, makeup usage and hair. But I often use "drag queen" to describe women who go overboard, so maybe there's not such a big difference.
As for Kim and whether she "needs" makeup - she's seen sometimes with little to no makeup on Keeping Up the Kardashians, and she does look different without it - better, in my opinion. Kim in particular needs to stop overdoing it, because she often looks clownish. Khloe tends to go for a more natural look, so I have no complaints there. And Kourtney… I've never really paid attention to anything other than her consistently wrong lipstick shades (she always wears orange-red, and it looks like crap on her).