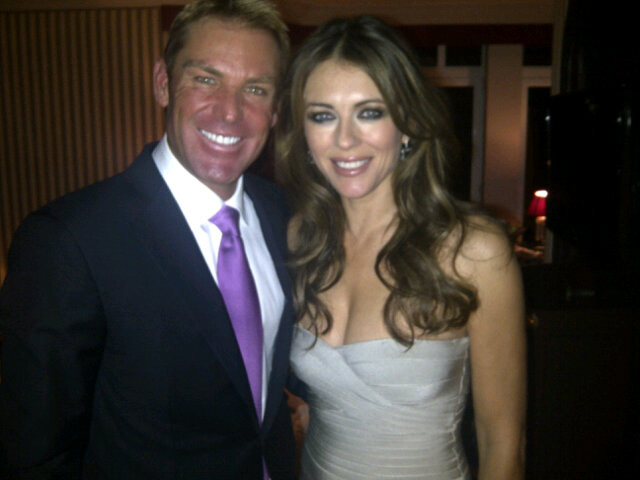 YAY!!!!!! As I've been discussing for more than a month now, Shane Warne and Liz Hurley are absolutely perfect for each other, and they have decided to make each other the happiest cat-faces in the world! Liz tweeted the above photo, of Liz being lit from the dazzling glare coming off of Shane's new teeth, with the message,
"Thanks for all your congratulations."
What were people congratulating her about? Well, it seems that Friday night, Shane proposed to Liz in St. Andrews, Scotland, where they went on a golfing holiday. Huzzah! Liz and Shane have been together at least ten months (that we know of), including the time they spent having an affair whil Liz was still married to Arun Nayar. Sometimes, when two cat-faces click, they just click:
Happy news for Elizabeth Hurley! The Gossip Girl actress and model, 46, is engaged to her boyfriend of 10 months, Australian cricketer Shane Warne.
Reportedly getting down on bended knee at the Old Course Hotel in Scotland Friday, Warne, 42, is said to have proposed during

dinner

at the hotel's Road Hole Restaurant.
Though a hotel source declined to comment on the couple's dinner, a source confirmed the happy news to Us Weekly.
"They are engaged!" reports the insider.
Flashing a giant

sapphire

and diamond engagement sparkler Saturday, Hurley Tweeted a photo of the pair prior to their dinner, along with the message "Thanks for all your congratulations." Warne then copied the message onto his own Twitter page and circulated it to his followers.
It will be the second marriage for both Warne and Hurley, who finalized her

divorce

from hubby of four years Arun Nayar in June.
Now, will they ever end up walking down the aisle? Probably, I would think. Shane has his own money, I believe (he's one of Australia's most famous cricketers), and it's not the bait-and-switch situation that Liz found herself in with Arun - where his parents were the ones with money, and Liz and Arun lived like millionaires, not billionaires. Now, will Shane and Liz last? Who knows? I've long suspected that Shane is Liz's ultimate "fixer-upper" project - she's remaking him, like she's Prof. Higgins and Shane is Eliza Doolittle. Shane seems more than happy to oblige, and I honestly think he adores her. I don't mean to be too naïve about the couple though - he's a known womanizer and Liz is rather sleazy. Is it too much to think that they'll be able to figure it out and live happily ever after?
These are photos of Liz & Shane yesterday in Scotland. What is she doing to his ass?