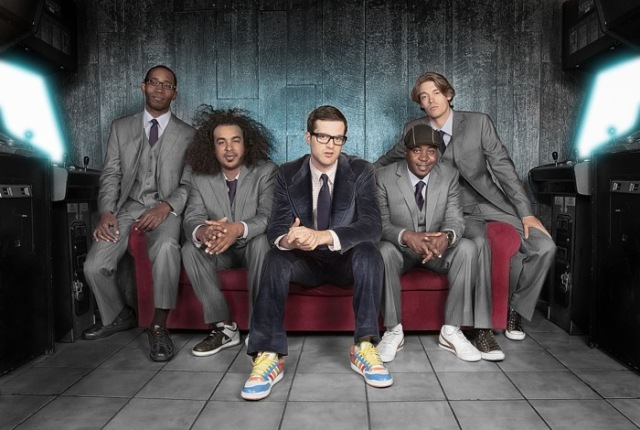 Who:
Mayer Hawthorne
From:
Ann Arbor, MI
Why You Should Know Them:
Because he's had no formal training, but sings like a soul pro.
Stones Throw Records is a predominantly Hip-Hop label, specializing in "indie" acts like Madlib, Percee P and the label head, Peanut Butter Wolf. Somehow, a soul drenched whiteboy from the outskirts of Detroit made his way there. His name is Mayer Hawthorne and his sound is reminiscent of the soul samples you hear on Hip-Hop tracks from producers like 9th Wonder and the late J Dilla. His sound is an amalgam of the best memories of real Soul music hugged by the present-day electro-Hip-Hop soul-sampled production that has defined the indie rap scene. The combination is a total marriage in the package of a man that could pass for an English professor. How's that for a winning combination?
When Peanut Butter Wolf got a hold of Mayer Hawthorne's music, he didn't know what to do with it; but knew he had to have it. So, Mayer Hawthorne joined the Stones Throw roster. What started as just a handful of tracks turned into a full work at the instruction of PB Wolf. Mayer dropped a self-produced debut in 2009 titled
A Strange Arrangement
. The single "Just Ain't Gonna Work Out" arrived as a heart shaped 7" vinyl, which he hands out in the video (shown above). The b-side to that single "When I Said Goodbye", was included in the Kanye West short film
We Were Once a Fairytale
directed by Spike Jonze.
A Strange Arrangement
became a critical darling, earning Hawthorne a spot on "Best Of" lists for that year from places like
Playboy
and
Entertainment Weekly.
Within two years of joining Stones Throw, Universal Republic grabbed Mayer Hawthorne and added him to the majors. His debut
How Do You Do
is slated for release by the close of 2011, and the single "A Long Time" has gained sizable buzz. There's nowhere for Mayer Hawthorne to go but up.
While it may be aesthetically easy to lump someone like Mayer Hawthorne with other melanin-deficient constituents (a la Robin Thicke, Justin Timberlake, etc.), his sound is all his own. As he continues to make his way through music, crafting present-day sounds of the past, superstardom is just a "stones throw" away.